Tale of a Hacker News Post
Posted:   |  More posts about
kubernetes

I posted my previous blog post about Kubernetes failure stories on Hacker News (HN) last Sunday, exactly one week ago. Here is what happened afterwards.
The Hacker News post received 510 points (upvotes) and 228 comments so far. The post was shown on the HN homepage for about one and a half days. The topic apparently hit a nerve.

My blog received 29k hits from HN ("news.ycombinator.com" as referrer) and 24k visits on last Sunday alone: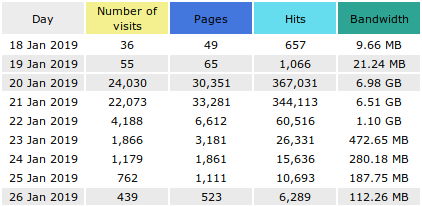 The number of GitHub stars went up to 1.5k and I received two pull requests with additional failure stories.
The German Linux Magazin wrote an online article "Geschichten über Kubernetes Fails" about the topic.
Someone posted a link to my blog post on Reddit. It has 11 comments, so might be worth a look.
The blog post was mentioned in KubeWeekly #160.
Craig Box and Adam Glick invited me for an episode of the Kubernetes Podcast by Google. UPDATE 2019-01-30: episode #38 "Kubernetes Failure Stories" is now published.
UPDATE 2019-02-03: The O'Reilly Programming Newsletter also prominently featured "Kubernetes Failure Stories" in its latest issue.
I hope to see more contributions for the list of Kubernetes Failure Stories in the future. That was the main reason for me to post the topic, so let me know on Twitter or GitHub if you have a story to share!